January is off to a bitter cold start in the panhandle of Florida. Along highway 98, I watch the north wind shove sea water off the shallows of Apalachee Bay.  It is low tide: the influential waning moon bares the bay bottom even further.Is it my imagination, or does the sand appear to shiver?
Shorebirds have fled for shelter along the backside of the islands. Thousands of scaup and redhead ducks raft tightly in the thin water.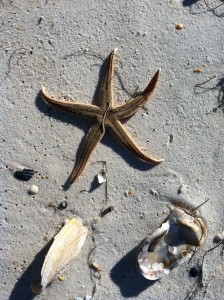 A good day to look for starfish. I found this one on the eastern end of St. George Island.
Here's a wonderful poem to go with it.
Daybreak
By Galway Kinnell
On the tidal mud, just before sunset,
dozens of starfishes
were creeping. It was
as though the mud were a sky
and enormous, imperfect stars
moved across it as slowly
as the actual stars cross heaven.
All at once they stopped,
and, as if they had simply
increased their receptivity
to gravity, they sank down
into the mud, faded down
into it and lay still, and by the time
pink of sunset broke across them
they were as invisible
as the true stars at daybreak.
Share On: