We are headquartered this week in Boulder, Utah, spending a spring lit break in a wilderness very different from home.
Every day we hike 8 or 9 miles of canyon wash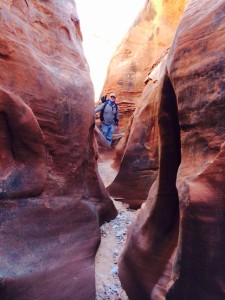 or rocky outcrop in Escalante or Capitol Reef.
Silence defines. I hear only sounds I make. The shush-shush of my boots over pink desert sand. The creak of my pack frame. The zip of a pocket knife through an avocado we share.  The rocks make no comment. My mind grows more and more still.
If there is little to hear–blessed, blessed quiet–much is asked of my eyes. Here are layers of rock and time–massive landscape features with names like Red Slide, Waterpocket Fold, Straight Cliffs, Upper Muley Twist Canyon.  The skeleton of the Earth is revealed.
On one nameless outcrop we come upon a medicine wheel created of rock amongst a host of rocky cairns, a place for ritual some star-filled night.  That's the sacred.
We see the profane, too. Everywhere but the national parks we see the despoiling of the landscape by cattle, and off road vehicles.   I've brought along a Harper's magazine with a terrifying feature "The Republican Plot Against Public Land."   But I'm going to save studying for the trip home.
First, there's another trail or two we want to hike.
Share On: