The strange business of writing requires more time sitting still than I enjoy.  At home I can distract myself with laundry, food prep, family errands, or picking up the house. Almost anything seems more urgent than the desk work I say I want to do.
Thus, the writers' retreat. I'm wrapping up six days at the Bowers House in northern Georgia.  There's nothing within walking distance except a dollar store, post office, and a very old abandoned jail house.
Two other writers and one visual artist are working alongside me in the spacious old seven-bedroom home, once a hotel.  We smile when we pass in the hall or on the staircase, but don't really engage until we prepare and share supper in the big farmhouse kitchen.
I've had this project on hold for nearly 3 years. It's a memoir about caring for my elderly father at the end of his life.  I want to explore that time of caregiving, because I railed against the duties and unanswerable issues of aging and dementia in our culture.  And yet I suspect the caregiving required of us is more closely related that I knew at the time, to caring for our planet.  And I'm so grateful to have this spacious time and place to go deep into my work and contemplation.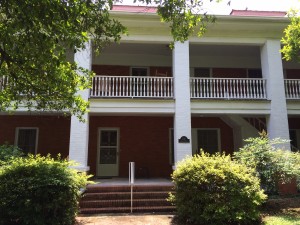 Share On: