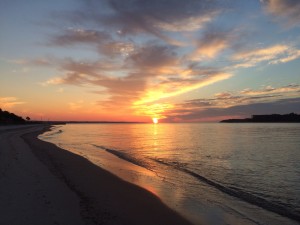 I am a person of the coast, although much of the year I live 30 miles inland.  I can sometimes feel deprived when I'm not down at the edge, where all is clear to see.
Beginning on winter solstice 2014, I began a practice of observing and meditating on the comfort of the annual cycles of sunlight, wherever I am. My own home has become a tiny Stonehenge, a still place to receive the light.
On the winter solstice in December, the sun fingered into our south-facing dining room, making brilliant the blooms of the Christmas cactus.
Now in late June, just past the summer solstice, our star rises far to the north, and I must sit on the front porch to witness its ascent.  All around me in the trees, families of fledged great crested flycatchers cackle and chortle, tuning up to migrate south.
It's our great good fortune to live on this earth, with all her gifts. Her rhythmic turning is just one, and it offers us a stable container for our human craziness and struggle.
The poet Hafiz says:
Even after all this time
The sun never says to the earth
"You owe me."
Look what happens with a love like that.
It lights the whole sky.
May we match the light of our lives–as best we can–to that of our great and reliable Sun.
Share On: