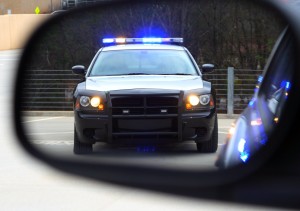 Last Sunday, I almost got a speeding ticket. In a state park, no less. At the hand of an FWC law-enforcement officer, no less.
There are more ironies than you might imagine wrapped up in that incident.
When I share this news with my friend Crystal, you will be able to hear her laughing way down in Wakulla County. She followed me in her car a few weeks ago, and later reported that I drove her mad. "Nobody goes the speed limit on 319, and you were under it," she complained. And last week on Magnolia Drive, two different motorists rode right up on the back end of my car and leaned on their horns.
What's my crime? I drive the speed limit, or less.
But not last Sunday in St. George Island State Park. Leaving the pavilion, I passed a silver FWC truck–too late to apply the brakes.  I sat in my car at the side of the road awaiting my fate, with that shame in the gut that only blue lights in the rearview mirror can give.
"38 in a 25 mph zone, ma'am." How much was that going to cost me? I couldn't help blabbering to the nice officer about my box turtle reputation at the wheel, and also how if it was least tern nesting season in the park, I'd be driving less than 10 miles an hour on that road. I'm not certain he even was aware of the least terns.
"Ma'am, there are people walking their dogs and riding their bikes along this road," he said. "Take it easy. I'll let you off with a warning this time."
All the way home, I kept thinking about why I really do drive slowly, and why we all should, especially this time of year.
Black bears lope across our roads. So do white-tailed deer and a host of mid-size mammals. Some make it, some don't.  I've seen many dozens of migrating indigo buntings flattened to glimmery feathers on Highway 98 between Eastpoint and Ochlockonee Bay.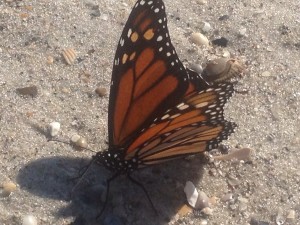 This weekend, on the tail of a cold front, dragonflies and butterflies were out in full force along the coastal roads.  Who even knew that these showy insects migrate south, just like birds, in some cases following the same aerial flyways?  I always work at slowing down enough to let those insects catch a slipstream of air over the roof of my car, instead of being smashed on the windshield. That can make for very slow going. I highly recommend it.
Our asphalt roads slice and dice the habitat of so many animals; they pay the price of human speed and convenience with their bodies.
But the danger I personally pose on the highway isn't excessive speed.
Really, officer.
Note: Did you know that our award-winning Florida State Parks are at great risk?  Please join the Facebook page Florida State Parks in Peril to stay current with the Scott administration's latest work in progress, and what you can do to help the parks.
Note:  If you wish to Unsubscribe to this blog at any time, simply send me an email!
Share On: