On the last day of August, we paddled a clear forest creek, for pleasure. The current slipped my kayak around cypress knees and beneath the arms of tupelo gum, but my mind was wrapped around black bears: just days earlier, the state wildlife agency had voted to open a hunting season on them.
As we left the woods, a black bear cub galloped across the dirt road in front of our car.  The young animal's hind legs seemed longer than the front, and its body stretched out as if it flew, oriented toward the cover of the forest.
My husband stepped on the brake, rolled down the windows, switched off the motor.  Our friend unpacked his camera. We sat in silence, waiting for a mother bear to emerge from the pines. Perhaps she was out ahead of the young one, who had shoved into a dense wall of swamp titi at the edge of the road.
We were stumped by questions we could not answer. Could hunters legally shoot such a small bear? Would they? Really? And how would a cub survive if his mother is killed?
And this: Can we not accommodate and honor the rightful presence of a mere 3000 black bears in Florida?  What system of thought has planned a week of legalized slaughter of our state's largest mammal–an animal only recently classified as threatened?  Is this truly the best way we can imagine to address the conflicts generated by too many humans pressing on our wild places?
And this:  How can we bear the killing to come?
When bears were even more rare
At the time I was hired as a wildlife biologist by the Florida Game and Fresh Water Fish Commission, in 1984, black bears were still hunted in Florida.
Once in a while, I would attend meetings of the commissioners, and felt both frightened and fascinated by the bear hunters who came to advocate for their sport.  They didn't suit up like the staff bureaucrats, or the wealthy landowners and corporate businessmen on the commission. They wore camouflage pants, leather boots and caps pulled low over their eyes.  I swear I saw more than one scratch his spine against a post, as if he were a bear, and the post, a tree.  If you squinted your eyes, you could imagine the hunters as forest animals.  They seemed of an earlier time in Florida, when this land was an open frontier, and everything–land and wildlife alike–was up for trapping or shooting, skinning or eating.  I simply couldn't believe that anyone wanted to shoot a bear for sport.  And yet, I knew the hunters and I shared the same love of wild woods.
It was rare back then to see a black bear in North Florida.  You could ride along Highway 319 from the Ochlockonee River bridge to the FSU Marine Lab and maybe one year, maybe 20 years after you started hoping and watching, you'd spot something larger than a dog, with longer legs than you could believe.  It would lope across the highway in front of your car and you would turn to your companions and try to find words to describe the thrilling quality of the animal, like no bear you'd ever seen sleeping at the Tallahassee Junior Museum.  Most of all you'd notice its long athletic legs, so clearly built for pacing the many square miles of its huge home range.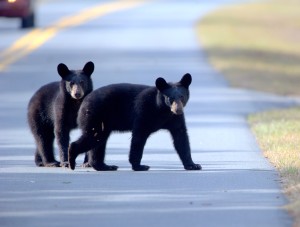 In 1994, bear hunting was closed statewide: science, and perhaps reason prevailed.  Several hundred bears were killed every year by cars on Florida roads and highways.  Over development, habitat loss and hunting had driven the animals to historic lows. The bear hunters were forced back into their forest camps and inholdings, and the animals began to bounce back.
No room left for the wild?
Recently, I dreamed that a large female bear came to live in my house. I couldn't imagine that she would stay very long.  The house was too small for her, too confining. Soon she would shoulder her way outside, crashing through a window or door.
Crash is a word that often is mentioned in connection with bears. Bears have been reported to crash through decks and pool screens, break into cars and coolers to get at dog food or sandwiches, and plow through trash cans and dumpsters and freezers.  They can break down palm trees to retrieve the nutritious growing tip (or heart), and flatten berry bushes. These are not crude blusterers, but efficient harvesters of food.
Bears are the only large omnivores (besides humans) that live in Florida.  Fully-grown, they can weigh 600-700 pounds, and must eat 20,000 calories each day to prepare to den through the coldest months.  A deep intelligence allows the bear to feed herself, and her attention to potential food is broad and unrestricted.
But territories established by bears are self-defined. These wide rovers crash through boundaries that do not exist: human property lines. Nowhere on the landscape are there signs that bears can read, nor laws that they have agreed to.
Bears will always lose, once accustomed to human food and garbage. A habituated bear will eventually be a dead bear. The wildlife agency attempts to capture and euthanize any "nuisance" bears they deem a threat to public safety. Between 2007 and 2011, an average of 15 bears per year were killed in this fashion.
In my dream, our home was too confining for the bear. The same is true for the state of Florida. The human population is predicted to nearly double by the year 2050.  Since bears are not likely to have access to more areas of protected landscape than are currently established, their greatest need is for humans to participate with them, if we are to coexist.
Looking for bears
A few weeks ago, I went looking for bears in the national forest near our home.  At best, I hoped to see one as the poet Mary Oliver once did, "Rising, like a black and leafy hedge…to sharpen her claws against the silence of the trees."  At the least, I hoped for footprints, so like a human's, or scat.  Also, I knew—knew—that the forest would never feel as safe again, once the bear hunt begins on October 24.  I wanted to remember what it felt like, before fear.
The first mammal I spotted was a half-grown raccoon. Snout to the ground, she swept the forest floor like an old man with a metal detector on a Florida beach.  When she heard a twig crackle under my foot, she ran for a small pine and climbed hand over hand, with long arms and black footpads designed for the job. Just like a bear would.
Around the bend I encountered a large deer ahead, mid-trail.  I froze. We both stared. I absorbed her presence. The deer put together the pieces of me, my muted field clothes, maybe the sun glinting off my glasses, my scent. She lifted her right foreleg, thumped the ground, switched her tail. Then, with the left foot, she stamped.  Again with the right, half a dozen drumming repetitions followed by a loud, nasal snort. Another snort, she turned.  Gone.
I kept walking. It seemed that only the mosquitoes were glad to see me. Sweat slipped down my forehead and the back of my neck. What were the bears doing on that itchy, hot, summer-burned day?  The only sign I saw of them were slashing claw marks in the bark of several tupelo gum trees, and those I expected and had seen before.
On the crossover trail, tannic water rippled against the swollen bases of the trees.  A very young otter, water dripping from his whiskers, peered from behind a tree. If an otter's face could express worry, this one's surely did. He turned and swirled away, propelled by his small, muscular tail.
How sad that everything wild, fears us.
Loving bears
Sad, because humans want to be close to wild animals, long to be in relationship. We want to take the closest possible pictures. We want to follow them, touch them, get them to interact. We want to feed them, talk to them. Want to be special to them. Even love the thrill of fearing them.
Last summer, my husband Jeff and I were driving through Yellowstone National Park when we came upon a black bear. It wasn't the bear we saw at first, but the traffic jam.  More than 50 cars and SUVs and campers nosed and jockeyed for the closest vantage point to the free-ranging, would-be foraging, bear.  People didn't really want to park on the side of the road, so much as they wanted to roll their vehicle as close to the bear as possible. Some had crawled out on top of their cars, others hung out their windows, a few edged up the wooded slope with their cameras, towards the bear.  It was a spectacle, we found it grotesque, and it sorrowed us.  The impulse toward intimacy with wild creatures is an essential human quality, not a bad thing at all.  Perhaps there are just too many of us.
I want you to know that bears and humans have lived together on this planet for hundreds of centuries. Sometimes humans have driven a great sub species of bear to extinction.  Oftentimes, we have worshipped them.  Festivals and rituals surrounding the bear, even the slain bear, have been widely distributed in virtually every country of Europe, Asia and the Americas.  "The flesh  and skin of the bear are not part of the ordinary needs of people," wrote Paul Shepard in his book, The Sacred Paw. "So the bear has been almost wholly symbolic in human ceremony and imagination…. When ritual evaporates or is forgotten, what remains appears to be brutish or savage."
That is where we stand today.  I believe some hunters are prayerful in their harvest, but not so, our politicians.
Who is guarding the henhouse?
What brought the bear hunters back to the wildlife agency's meeting room in 2015, twenty-one years after their sport was banned? Especially since, in every forum–public meetings, letters to the agency head and the governor, social media, and reliable public opinion polls—it is clear that the vast majority of the state's citizens love the bear and strongly oppose its killing for sport and adrenaline?  It seems they were invited.
Dreams can sometimes help us or force us to confront the truth.  In April 2015, I had such a dream, a nightmare of the highest order.  I dreamed that Governor Scott was dismantling the Florida Fish and Wildlife Conservation Commission (FWC).  (In actuality, Scott has already systematically abolished the Department of Community Affairs, and dismantled significant programs and functions within the Water Management Districts, and the Department of Environmental Protection.  But I hadn't yet seen indications that the wildlife agency was at risk.)
In the dream, I walked to the agency building where I had worked for so many years.  Once inside, my fears were confirmed: the agency had been almost entirely dismantled. Regional offices had been shrunk and shrunk, until no one was left on staff. Everyone was fired, all those smart dedicated biologist and educators I knew were gone now.  All that remained was a big empty building in downtown Tallahassee with just one telephone, which would now be answered by the overlord, which was Scott himself.
I began to look for the records that would at least help us remember what Florida's conservation programs were like at their peak: tops in the nation.  But all of the documents had been shredded. Only empty boxes containing a few curls of crumbled paper remained. A sociopath was in power now.
There was an element of great danger in the dream, which is true in Florida today.  Many of those appointed by Scott are bent on eliminating all memory of Florida, and how we have cared for it.
That dream tells the truth square on.  Because the FWC is a constitutional agency, not directly subject to the governor as are the Department of Environmental Protection and the Water Management Districts, the governor has co opted the agency through the appointment of like-minded commissioners.  Seven commissioners oversee FWC:  their job is to exercise the "regulatory and executive powers of the state with respect to wild animal life and freshwater aquatic life…and marine life."  Five of the seven were appointed by Scott.  Five of the seven voted in favor of the hunting of bears.
Money and power are overruling the voices of the people of Florida.
****
One long ago January afternoon, a white-tailed deer came bounding. It was general gun season; hunters and dogs were active in the forest.  The deer hoped to escape pursuit by crossing over the river. From my kayak, I could hear the animal's heaving breath as it stumbled down the steep bank.  Quietly floating through the deer's home territory, I was a witness to the panting, snorting effort of its flight.
I imagine the bears, a minimum of 320 individuals, soon to be chased by that same fear through the forest. I imagine the grief of cubs, and their inability to fend for themselves, after their mothers have been shot.
How are we to argue for the unharassed presence of wild black bears in Florida? How are we to prevail, and see to their protection?
Somewhere, a bear is drinking water. Imagine her lapping.  She is not a shadow or a myth or a "nuisance." She is thick fur and white teeth and adept tongue.  She is powerful nose and small eyes. She is non-retractable claw, sacred paw, leafy den.  She has a lust for berries and perfect love of her cub, a mammal that nurses her young. She is a sovereign being whose presence means our forests are still vivid and robust.
The policies and laws that govern how we treat the black bear, and all of Florida, have been chosen. We can choose again.
Please subscribe to my columns about wild Florida at www.susancerulean.com
Share On: