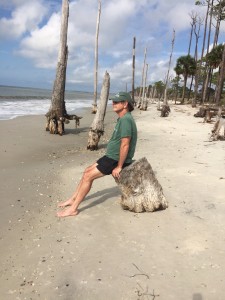 "I keep vigil…. For those who suffer, and for those who keep vigil."*
This was my unexpected assignment on Saturday, as Jeff and I walked a remote outer stretch of St. Vincent Island.
I came upon a red knot hunkered down at the water's edge, a bundle of feathers pressed against the sand. We'd been admiring the knots as they moved through north Florida on their migration, 5 to 10 at a time, mostly.  They feed voraciously, plunging their bills over and over into the wet sand at the water's edge.  They remind me of a host of paper doll birds, so alike is one to the next.  But this one had been short stopped in her unimaginably long migration from the high Arctic to the tip of South America.  This bird wasn't going to make it.
Her eyes slitted shut, and her bill opened and closed rhythmically. I crouched at a distance that wouldn't add to her distress, as she sipped the last air she would ever inhale. Now and again she trembled.
But she was not dying alone.
A sanderling, feisty loner of the winter beach, nestled down in the sand near the knot's head.  I'd never seen a sanderling assume such a position, though surely they do when they incubate their own eggs.  Then a second red knot took up a post at the rear flank of the downed bird. Two lesser yellowlegs (tall shorebirds unusual on this beach) moved in, intervening between the small sheeting waves of the Gulf, and the knot.  They tilted their heads sideways, ascertaining the knot's situation, and then simply stood close.
The four vigil birds–only one a conspecific–were companioning the rare bird, as she died.
My human mind ran through its tricks. First, as a citizen scientist, I thought I should look for identifying color flags or bands, because the knots are so highly endangered. But I was not going to pick up this bird during her death.  That would be extraordinarily disrespectful.  Then I wondered for just a moment if we should try to take the bird to a wildlife rehabilitator. Considering the 8 bumpy miles we had to travel by boat when we returned to the ramp, and then who knows how far by car to find help–that trauma was out of the question, as well.
The four vigil birds showed me what to do: simply be with. Simply offer tender presence to the incapacitated one.
The sun glimmered on the yolky limbs of the yellowlegs. The wind lifted the delicately barred back feathers of the downed knot.  The tide continued its rise.  We all continued to breathe.
In our culture, except for domestic pets, we rarely think of animals as having complex emotional states. And we don't often attribute them with interspecific compassion.
Ah, but we are so wrong.  I saw this hospice for myself.
*This is a line from Leaning into the Darkness, written by Velma Frye and Macrina Wiederkehr.  You can hear the whole amazing song on Velma's Take Heart CD.
Share On: