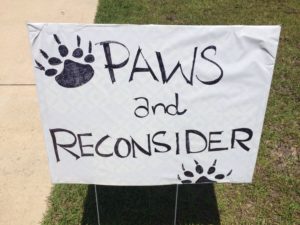 June 23, 2016
Yesterday I spent 9 hours witnessing a public hearing held in Eastpoint, regarding a second hunt of Florida black bears.
While it was in many ways a very anxious day for me, I was absorbed and impressed with the speakers (I was Speaker # 66 and there were several dozen more behind me). I didn't anticipate our collective courage and brilliance.
When I first made a pitch to this Commission, in 1984, regarding a nongame wildlife program for Florida, it was a very different place.  Almost everyone in the audience was a hunter; almost all were male.  If you were concerned about conservation of habitat, you largely avoided the FWC, and took your concerns instead to the DEP and the Department of Community Affairs (which was, you may remember, replaced by Governor Scott immediately after his first election, with the Department of Economic Opportunity).
So what a joy to wake up this morning and hear that the Commissioners had voted 4-3 in favor of postponing a hunt for 2016, AGAINST the recommendation of their own staff!
Friends, don't fail to advocate for what you think is important. We never know when our voice will help turn the tide.
What follows is the statement I delivered yesterday. I encourage you to look around the internet for others who spoke.  They were amazing.
June 22, 2016      Statement to the Florida Wildlife Conservation Commission
Good afternoon, Commissioners:
My name is Susan Cerulean. I live in Tallahassee and I am a conservation advocate and a writer. My first book was published when I was employed as a biologist with the Florida Game and Fresh Water Fish Commission in 1994. That book, the Florida Wildlife Viewing Guide, sold more copies than any other state viewing guide. People in Florida love wildlife. The speakers you have heard today, even those who are pro-hunting bears, all express a love of seeing wildlife, and simply knowing it exists in our state, as well.  This we hold in common. I appreciated the inclusive prayer offered by Tom Champeau this morning. I speak to you now in that spirit.
Tom reminded us that all of our hearts are troubled by the senseless outbreaks of violence occurring in so many places in Florida, and all over our beautiful planet. In the same sense, I believe it is the violence and brutality of hunting bears that incites thegrief and fury of everyone who opposes it.  And it is unthinkable to those of us who are concerned about the immorality of sanctioned killing to realize that overwhelming public opposition and protest, along with science and data that refute the efficacy of recreational hunting in controlling human-bear conflict, was not enough to change the course of FWC's 2015 hunt, and may well not stop a hunt in 2016 either.
I ask you to consider the question raised by your chief bear scientist Dr. Thomas Eason, in his presentation this morning:
How can we learn to live with bears, again?
I know Dr. Eason meant this in the longest possible timeframe.  He reminded us that prior to pre-Columbian invasion of this continent, every kind of native wildlife was abundant. Human pressures, both through habitat destruction and hunting nearly annihilated bears in Florida over the last few centuries.  Only recently have they rebounded.
I hope you will consider the largest possible perspective in your deliberations today, for that is your job as wildlife commissioners.
Bears and humans have lived together on this planet for hundreds of centuries. At times, humans have driven a great subspecies of bear to extinction.  Oftentimes, we have worshipped them.  Festivals and rituals honoring the bear have been widely distributed in virtually every country of Europe, Asia and the Americas.  "The flesh  and skin of the bear are not part of the ordinary needs of people," wrote the cultural anthropologist Paul Shepard. "So the bear has been almost wholly symbolic in human ceremony and imagination…. When ritual evaporates or is forgotten, what remains appears to be brutish or savage."
That is where we stand today, if you go forward with a second bear hunt.
Sanctioning the killing of black bears in Florida for sport and trophy is brutish and savage in the eyes and hearts of millions of Floridians.
Floridians believe not just sport hunting, but hunting as a response to concerns about bears becoming "nuisances" by foraging in open dumpsters and garbage cans, birdfeeders, and coolers, are cruel and brutal. The death of 325 bears and the agony of their cubs did not, in 2015, and is not, in the future, expected to reduce human-bear conflicts.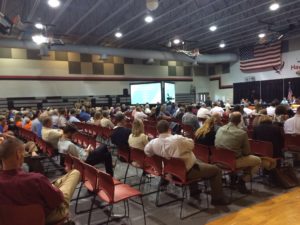 By every measure—in public meetings, numbers of letters to the agency head and the governor, social media, and reliable public opinion polls—by newspaper editorials, by county resolution—in all the ways citizens speak to their government—they have made their wishes clear.
What your scientists are not—and perhaps cannot—address in their recommendations to you, besides that bears are a vital native species of great ecological concern, is that these magnificent creatures are sentient beings with a purpose for being here on Earth. They were not made for humans any more than black people were made for white, or women created for men.
I ask you, Commissioners, to consider the language you are hearing today from people who have travelled from all over the state. From your scientists, and their colleague from Maine, and their blue ribbon panel, we hear words that distance and measure, such as:
Harvest. Sustainable populations. Bear management units. Maximum yield. Scientific necessity.
Hunt opponents choose different words:
Kindness. Suffering. Lactating mothers and their cubs. Compassion. Co-existence. Ethical relationships.
If you vote in favor of a 2016 hunt, all over the world, people once again—rightfully–view Florida politics and the bear management program in particular, as gravely off course. Not because of your science—but because of the inherently violent nature of hunting Florida black bears.
I ask you to choose Option 4: No more bear hunting ever again in Florida.
Share On: