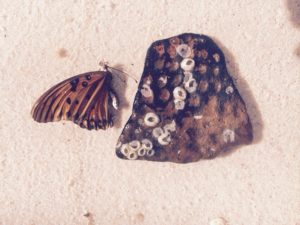 Out on the beach, I found these two remembrances of lives gone by: a Gulf fritillary butterfly, short-stopped on its fall migration, and a fragment of very old pottery (most likely made of the red clay in my bioregion). Barnacles had built a home on what once had been an ancient pot.
I placed these beautiful remnants side by side, considering their messages of impermanence and beauty.
Today, in many spiritual traditions, we honor our ancestors, and perhaps we feel their presence more closely in our lives. I like to think of All Soul's Day, or the Day of the Dead, as a time when our earnest prayers might be answered with an assisted lift from those who have gone before us.
This is also Samhain, a Celtic holiday that honors the midpoint between the Autumn Equinox and the Winter Solstice, a day to mark the holiness of our turning seasons on this Earth, particularly as we move into the dark time of the year.
I'm praying today that we humans will find our way into harmonious relationship with all the beings of the planet, and within ourselves.  And especially, that we will find our way through the darkness in our politics.
Here's an Emily Dickinson poem for you to consider.  Like the butterfly and the clay pottery, it speaks to me today, offering the comfort of the long view.
"Long Years apart — can make no
Breach a second cannot fill —
The absence of the Witch does not
Invalidate the spell —
The embers of a Thousand Years
Uncovered by the Hand
That fondled them when they were Fire
Will stir and understand —"
Share On: