I'd never heard of southeastern Utah's Bears Ears until President Obama declared that enormous landscape a National Monument last December.
As Jeff and I planned our spring break trip, the thought of this just-protected place intrigued me. For the last four years, we'd been getting to know the marvelous red rock country protected in the Beehive State.  Those wildlands are so different from our pine forests and emerald Gulf waters, and I find that a period of immersion in high desert country offers a geological perspective very different from our relatively young place on the planet.
In Capitol Reef National Park, we checked out a formation labeled "oyster shell reef" on the interpretive map. Dang if we didn't find oyster shells FROM THE CRETACEOUS!!!  I worked to wrap my mind around the fact that this high desert had been an estuary like our Apalachicola–only about 100 million years ago.
On a long cross country hike through neighboring Grand Staircase-Escalante National Monument, we encountered only one repository of fresh water, which offered evidence of so many wild lives moving about that high desert. Can you see the stamping footprints of deer and other mammals in the sand, by the pothole?
West of Blanding, Utah we drove our all-wheel drive rental car very carefully up a mud-red road, hoping to approach one of the two buttes (or "bears ears"), that make the country's newest National Monument famous. The air grew colder, and the road, more challenging. Puddles turned into patches of snow and ice on the unpaved track. The views were stunning, but we didn't want to spend the night stuck deep in mud. So we turned around, knowing we had seen only the tiniest fraction of the place.
Earlier, in the Edges of the Cedars museum, a young Navajo interpreter had explained to us that that the Bears Ears harbors a wealth of irreplaceable cultural resources, along with wild landscapes that had caught our eye.
"The truth is, the establishment of Bears Ears National Monument was a healing moment of historic importance," wrote Terry Tempest Williams in Sunday's New York Times. "A unique agreement was reached between Indian tribes and the United States government for a collaborative approach to the management of Bears Ears. It was a clasp of hands across history. It was also about America looking into the deep future rather than into the narrow exhaust pipe of today. It was about drilling for hope and dignity, rather than fossil fuels."
But as you've probably heard, our current President has ordered his Secretary of the Interior Ryan Zinke, to review the size and scope of national monuments larger than 100,000 acres created since 1996 (which includes both Grand Staircase Escalante, and Bears Ears). Trump complained that these designations "unilaterally put millions of acres of land and water under strict federal control," called them a "massive federal land grab" and directed Interior Secretary Zinke to review and reverse some of them.
Yesterday, Zinke visited the Bears Ears by Blackhawk; for the next 45 days, all of us have our chance to let him know what we want him to do.  May we on the side of the living planet prevail.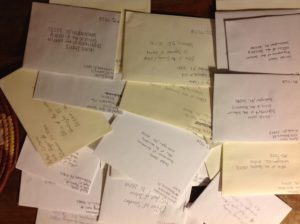 If you want to make a comment to Secretary Zinke, perhaps the most enlightened of Trump's appointees, send him a handwritten letter, or submit your support of our National Monuments, and all our public lands, online after May 12 at http://www.regulations.gov by entering "DOI-2017-0002" in the search bar and clicking "Search," or by mail to Monument Review, MS-1530, U.S. Department of the Interior, 1849 C Street NW, Washington, DC 20240.
Share On: